We are young, clever and also curious about the world beyond our own country. We have interests and ambitions. We are adaptable to newness and changes. We want to learn and experience to grow, discovering who we are and who we can become.
Fortunately, I got an opportunity to take part in Study of the U.S. Institutes (SUSI) program for Student Leaders taking place for five weeks from 01 July to 04 August 2013. Everything has changed since I came there and did plenty of activities in U.S. It is an academic residential component of approximately four weeks in Missoula, Montana State and a domestic travel component of approximately one week in New Orleans, Louisiana and Washington, D.C.
My companions are my Vietnamese group who come from Hanoi, Can Tho, Ho Chi Minh City and 16 other participants from 4 other countries in Southeast Asia: Burma, Cambodia, Laos, and Thailand. In my opinion, it brings us mutual understandings as we are originally from the same region. Moreover, this was great chance for me to explore the role that environmental policy has played in the economic and political development of the United States.
University of Montana
During five weeks, by alternating between extracurricular activities and lectures, SUSI program used experiential learning techniques to expose us to current themes in the field, including natural resource management, sustainable development/sustainable agricultural practices, food security, ecotourism, energy generation (new and traditional forms), and water management and treatment. The issues explored from numerous angles: local grassroots activism and civic initiatives, market-oriented approaches, and federal government policies and regulations. They also examined the relationship between environmental security and national security. Finally, they explored environmental issues in the context of a globalized society, and draw comparisons between the United States and Asian Countries.
I have the opportunity to meet with local, state, private, and non-profit organizations working in the field to learn. They always welcome us to ask any questions. It made me feel very comfortable. Because I study Environmental Science and Management, it helped me a lot in applications what I have learned in U.S to scientific research. Besides, many things were still new and first experiences for me. I understood more deeply that: Education needs time – "The more we study, the more we discover our ignorance".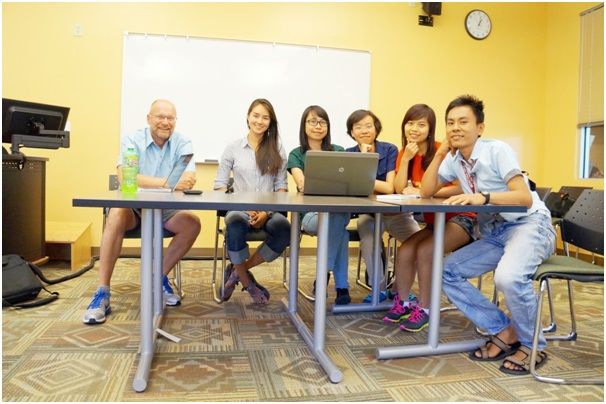 Vietnam team were discussing projects with Professor. Len
Before I came there, I have known that Montana is famous for its wildlife and scenery, places like Glacier stands out as an example of just how impressive nature can be. I supposed the existence of national parks is a gift to all of us - a chance to be awed for ourselves. And in a world where we are increasingly surrounded by entertainments, there is still nothing quite like a trip to one of these amazing places such as Glacier National Park. In that day, it looked like a dream: I still remember the feeling when I touched snow, standing and slipping there. Those were unthinkable moments, we all had a "snow war" and played with snow right in a hot summer, which is a totally a brand new experience for us.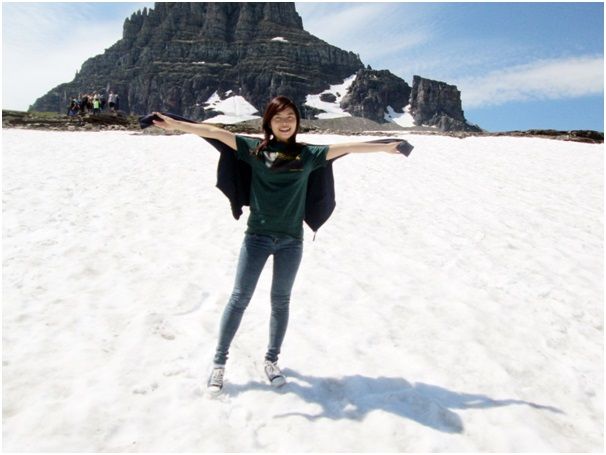 Snow in the sun lights - Glacier National Park – Montana State
In Missoula, I also had experience in rafting trip that took me down the scenic Blackfoot River and participated in team building activities in the low ropes course and Climbing Wall. These activities developed communication skills and team building. For me, they offered high adventure, help me overcome fear and be myself. That is so wonderful when I got it.
Different from Missoula, New Orleans is a big city of Louisiana. It is noisy and boisterous. According to current travel guides, New Orleans is one of the top ten most visited cities in the United States. For me, there are some things that make New Orleans became different and unique: A nostalgic of European architecture, an artistry of daylife with Jazz music in every streets, a rebellion of nightlife with casinos, pubs, and clubs and a romance with couples by Mississippi River. Though we only spent 3 days there, this place has made ​​me so passionate and did not want to leave.
Mississippi River - Louisiana
In the last days, I had chance to visit World Wildlife Fund,U.S Senate Committee on Energy and Natural Resources, Foreign Agriculture Service (FAS) of the U.S. Department of Agriculture, etc in Washington DC that I was so excited to learn about the policy and management of U.S government in environmental issues.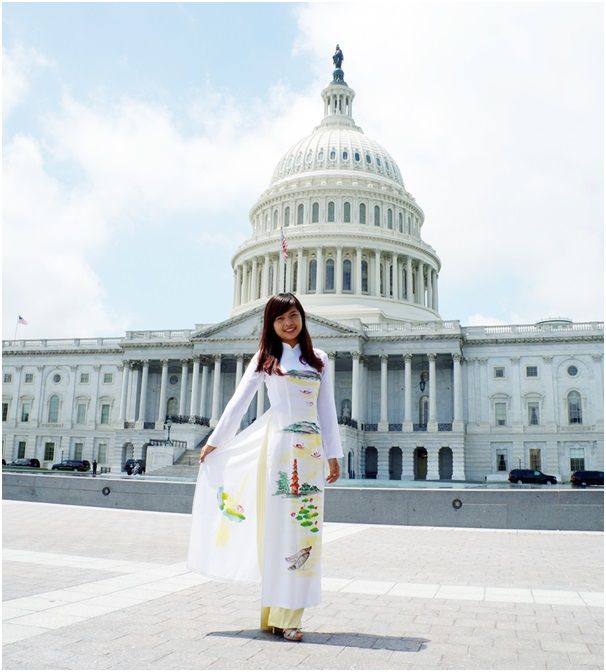 The United States Capitol – Washington DC
Traveling to new places, meeting with more people, sharing experiences, and working in a team are what I enjoy doing in my whole life. In my point of view, we live and learn in our host culture. Our experience will translate into tangible benefits later in life. Besides, we can experience another culture. Learn inside and outside classroom. Experience academic system of other cultures, other countries, we will become well-rounded students. As a result, we will think more deeply, will discover the joys of life-long learning, will become an educated person who can entertain ideas that we do not accept, will integrate our traditional values with values that are essential in modern way of life, will embrace social responsibility and will become a valued member of community of people doing worthwhile things. Shall we create peaceful and beautiful world with our good inspiration.
In a short article, I cannot share all my experiences, all the valuable lessons and all extracurricular activities of what I have learned, researched and done during this program. Moreover, there are also a variety of different feelings: gladness, happiness, fear, challenge, amazement and a little bit of the homesick. To me, all of those are awesome!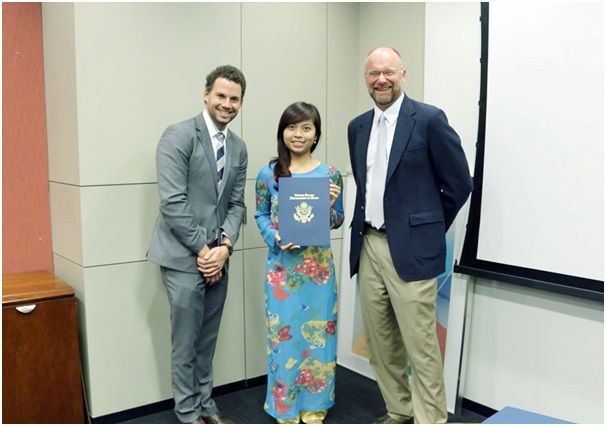 U.S. Department of State – Washington DC
Five weeks is like a great dream, five weeks is like an unforgettable journey with the baggage – which is not simply knowledge, confidence, determination and what makes up an indispensable part of it is all of my friends. It has been told that when a journey ends, another new one begins. It is said that "Nothing lasts forever", but I'm sure that every moments when I was in U.S will stay in my heart forever.
"Today's life – the only life you are sure of. Make the most of today. Get interested in something. Shake yourself awake. Develop a hobby. Let the winds of enthusiasm sweep through you. Live today with gusto."- Dale Carnegie